Although our list of people interested of buying a puppy from the upcoming litter was wide, in most cases the prospective buyers are not interested in purchasing a puppy anymore, and our pampered poodle boys are looking for new homes. Photos below in the end of this post.
If you're considering a fantastic family companion for outings, sports, and leisure time, don't hesitate to contact us. Please be prepared for the fact that we will also be interested in information about you, so that we can get an idea of the environment in which the puppy will be going. The puppies will be available for the new homes around mid-December 2023.
At the time of adoption, the puppies will be dewormed and appropriately vaccinated for their age, microchipped, and come with a pet passport. They will be insured for medical expenses within the Czech Republic for 10 weeks from the date of handover to the new owner. They will also be groomed and have a pedigree from ČMKU/FCI. They will come with a starter kit.
We offer the puppies at a reasonable price; please inquire personally by phone or email. We do not respond to SMS messages.
The puppies are raised in our home and will be accustomed to all the typical activities that take place there. From a young age, they will be used to to grooming-related handling such as brushing, shaving, bathing, and trimming. They will be taught basic hygiene appropriate for their age and socialized with people and other dogs in the household. We provide breeder support for our puppies.
We are looking for families who enjoy spending their time actively, going for walks, and are capable of providing plenty of exercise for their new poodle companion to prevent boredom-induced mischief at home.
We are a family kennel with an ethical approach to breeding:
We do not produce a large number of puppies; our litters are very rare. Quality is important to us, not quantity.
We import high-quality individuals from abroad (Sweden, Finland, Poland) with the aim of minimizing relatedness and improving the conformation of this color variation of the Standard Poodle.
Our Poodles share their home with us throughout their entire lives; we do not dispose of old, sick, or unsuitable individuals for breeding purposes.
The father of the puppies, Maestro from the Drum Family, is an exceptionally handsome dog from Polish breeding (with an American-imported father). He is a great family dog. Considering his age, he is still a bit adolescent and funny but has a gentle nature.
The mother of the puppies, Bright Shade of Rose Ambershades, is from our breeding and has Scandinavian, American, and European bloodlines in her pedigree. She comes from show-successful parents. She is an active family dog with a love for all kinds of walks, especially in the forest. In terms of temperament, she is a smarty who wants to listen and be trained.
Both parents are health-tested and clinically healthy.
For complete information about litter C go here and contact details here.
Cosmic Spark
Among all the puppies, Spark requires the most human company; he is very sociable. He enjoys being the center of attention. He is a nicely grown boy with show potential.
Cosmic Echo
Echo is a gentle and smaller guy. When a game is starting somewhere, he must be there. It's him who comes up with the biggest mischief.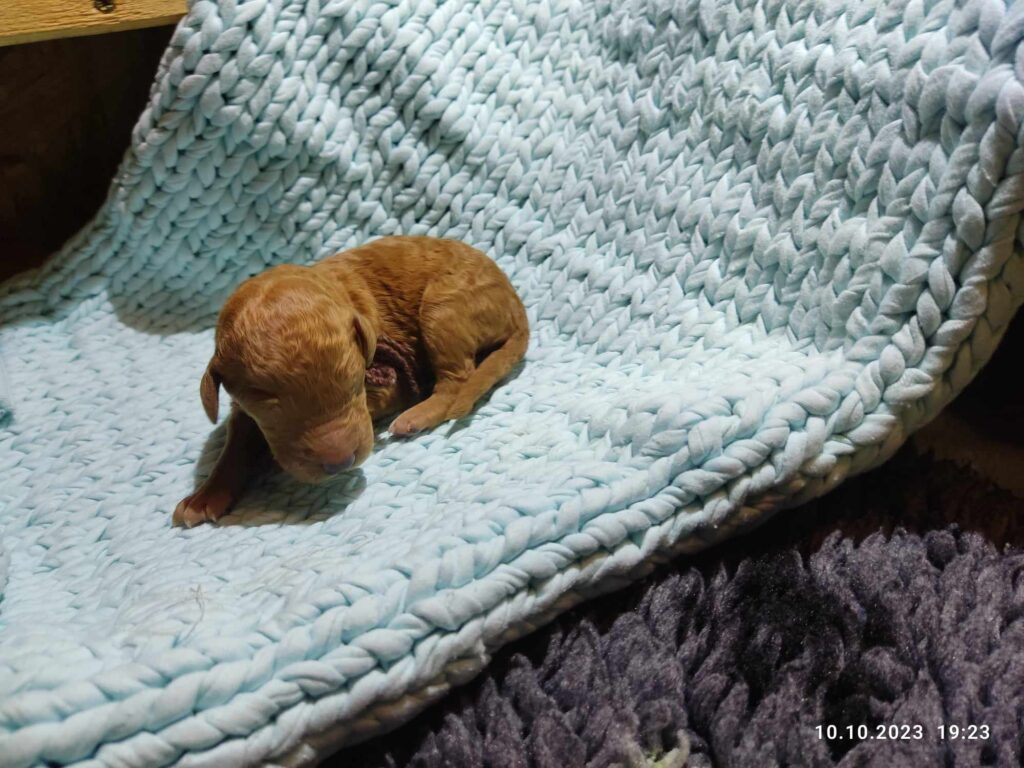 Cosmic Encounter
If I were to choose a boy, it would be Endy. A very handsome and sweet dog with show potential.
Cosmic Drive
Turbo is a smaller dog, temperamentally gentle and calmer. He was born as the last one in our amazing eight, but I believe he won't stay here as the last one for long.