This year is extremely busy for us. Finally, this June we had more time to spend with our dogs.
Club specialty Konopiště June 9th
After one year show break I entered Charlie to small club show near the place we live. I reported it in the spring post. Since the same day Charlie enjoys his terrier clip and lazy country life.
Outi Tenho visit in Prague June 21st
I had great opportunity to spend a Monday afternoon talking and sipping coffee with Outi Tenho and her daughter Rebecca from Old House kennel in Finland. Thank you both for the nice talk and hope to repeat it someday!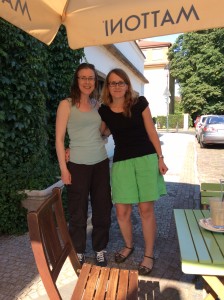 The last lesson of the agility course for begginers June 25th
The last Wednesday of June we spent on the last lesson of the agility course. The weather was perfect. This time there were prepared some jumps also for the owners. In the end of the lesson we has a hobby run. This time Maja was very quick and not concentered so we got a lot of  penalty points. Charlie ran – as usually – fine a certain and won the first place! He won other five free agility lessons for us and other nice gifts. We have a couple of videos from the end of the training, so the dogs are tired and unfocused a little. I'm sorry for not having rolled the first runs which were perfect to me.
Maja
Charlie
National dogshow Klatovy June 29th
The last June Sunday I entered Maja to national dogshow in Klatovy (CZ). She was shown after a half year show break and with a lack of hair (eaten by Charlie a month and a half before). Despite of that – she realy had her day, she ran with energie and joy. In competition Maja won BOB!